This information was eagerly awaited and the question animated the veteran and kata community around the world: after several postponements of the Veteran and Kata World Championships, due to the Covid pandemic, could the event finally take place in 2021?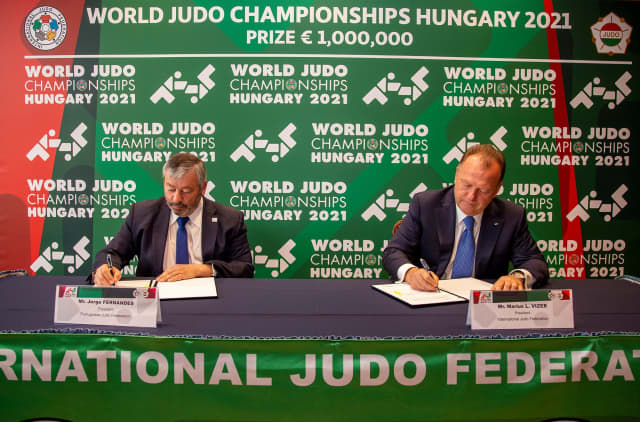 The newly re-elected IJF President, Mr Marius Vizer, accompanied by the President of the Portuguese Judo Federation, Mr Jorge Fernandes, has answered the question by signing the contract for the organisation of the event. Thus the 2021 Veteran and Kata World Judo Championships will be held in the Portuguese capital, Lisbon, from 21st to 24th October for veterans and 26th to 27th October for kata.
Mr Vizer said, "After two difficult years, I am happy to see that our veterans and kata specialists will again be able to compete. It is good to see that even though Covid put those competitions on hold, they can now resume, as our other events have. I want to thank Portugal for the initiative. I am convinced that together we can organise a great competition. The Veteran and Kata Worlds are good promotion for our sport, showing that everyone is part of our family. It's also a great promotion for a city like Lisbon. They have a big interest in the veterans and the kata. It attracts a lot of attention and brings a lot of visitors."
Mr. Jorge Fernandes declared, "We are really happy to have the opportunity to welcome our friends from all over the world. This year we organised the European Championships successfully. With the Veteran and Kata Worlds, we go to another level. With this event we want to show the judo community that there are many different ways to practise judo. In 2021 Lisbon was designated as the European Sports Capital. Unfortunately the event had to be cancelled several times in the past months, but today, we believe that we are ready to host it and we will. We have many Portuguese athletes who are performing in both categories. For them it will be a fantastic opportunity, to compete on home soil."
Bad Aibling-based chairman of the IJF Veterans' Commission, Denis Weisser, says: "I am very excited at the possibility of doing veteran and kata competitions again after the COVID-19 pandemic. We had originally planned stage this judo event in Krakow, Poland in 2021. However, since this was impossible for various reasons, I am delighted that we did find an alternative and managed to sign a deal with the Portuguese Judo Federation. Our heartfelt thanks go to IJF President Marius Vizer and the President of the Portuguese Judo Federation, Jorge Fernandes. We have good reason to look forward to an outstanding event in Lisbon and will be travelling to Portugal in October to select the male and female winners in the 30-and-over and kata categories. I expect more than 1,000 participants to show up and I'm so excited, I can't wait!"
There is no doubt that the Veteran and Kata World Judo Championships 2021 will again be a huge judo festival that will offer the opportunity to discover the beautiful city of Lisbon and will provide all participants with a warm welcome from the Portuguese people.