The days of Jorge Oliveira Fernandes, President of the Portuguese Judo Federation, are very busy. Since Thursday 21st October, he has been an attentive observer of the progress of the Veteran World Championships taking place in Lisbon.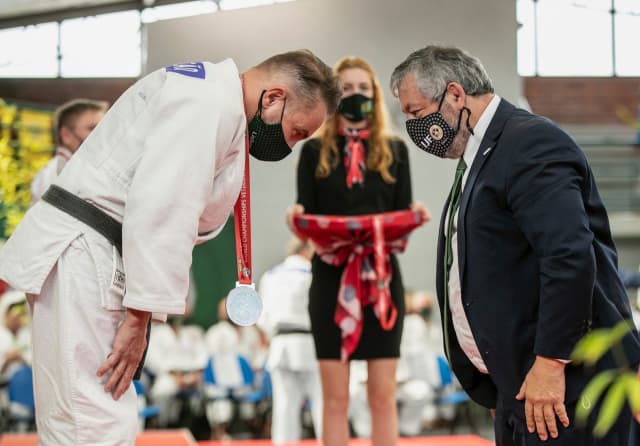 "The competition has started and I am very happy about it. This proves that it is quite possible to organise big events in Portugal, while respecting everyone's safety. We have already organised competitions for cadets and juniors and last April the European Championships, but this is the first time that we have organised the stage for a world level competition.
Since we signed the contract between the Portuguese Federation and the IJF last June, during the World Championships in Budapest, we have worked a lot. First of all, we secured and negotiated contracts with the sponsors and authorities and at the same time we organised ourselves so that the preparation of our national athletes could be optimal. It's a veterans championship, but it's a world championship and if we get good results there will be positive repercussions on all levels.
We have dreamed for years of organising this competition. When the previous organisers withdrew, we immediately applied. Initially we hoped to have more than 600 competitors. We are closer to the 400, but the pandemic has disrupted everything and we can be very satisfied.
The category of veterans has a very important social dimension. In Portugal, the veterans are very active because we have a great tradition of mixing new and older generations of judoka. The competitors are above all happy to meet again but they are also people who are involved in a rich professional and personal life. It's not easy for them to be away from home right now.
The stadium we have chosen for this event is ideal, located very close to the airport and the hotel where everyone resides. I think we have achieved something good. I am very proud of the work done by our team, in collaboration with the IJF and the Veterans Commission. The room is very beautiful.
To perfectly meet the sanitary protocols, we have even managed to set up an analysis laboratory at the hotel. The results are immediate and that makes things a bit easier."
Jorge Oliveira Fernandes has been President of the Portuguese Federation for five years. This Veterans' World Championship, which will be followed next week by the Kata World Championship, therefore seems to be a necessary step before other projects, "We have around 15,500 judoka in the country, but we can develop more. We have 'Judo for All' projects and other education ideas. Things have obviously not been easy in recent months, but we are moving forward. Today we are organising these two world championships but we would also like to organise a grand prix or a grand slam on the World Judo Tour and dreaming even further, why not one day have the honour of organising the senior world championships in Portugal. Before that we will undoubtedly go through other stages for the cadets and the juniors but let's dream big."
Jorge Oliveira Fernandes can return to the veterans competition for now. What is certain is that his federation is accumulating a lot of experience and that could well stand them in good stead.