Krakow is the host city for the 2022 World Championships Veterans and with 900 athletes across 4 busy days of competition, it promises to be a real spectacle.
On day 1 we begin with the M6 and M8 age brackets. Highlights are the name of the game with so much great judo on display.
In the M6 -90kg first round Solanki (IND) against Maxwell (NZL) highlighted the possible opposition of styles with the Indian competitor applying great tension and strong grips, while the New Zealander wanted to move and find a rhythm. It was the power of Solanki that won the victory in the end but this kind of opposition has been common on day 1. Many different styles have been successful but when they clash it can create particularly exciting matches with unpredictable outcomes.
Solanki's first round win proved to be instrumental in his progression as the Israeli athlete due to fight against him in the second round did not compete, placing Solanki in the quarter-final. There it was Gvasalia (GEO), a medallist from last year's edition, who stood there to meet him.
Facing a Georgian is as risky on the veteran circuit as it is in any other age category. There is always a massive counter or a baffling unorthodox grip to deal with but Solanki had great control of the rules and won the quarter-final by sticking to the rules. A strong grip, a number of sasai-tsuri-komi-ashi attempts and the ability to come back to a positive posture even through a gruelling golden score period, meant a win and a place in the semi-final; a German opponent next. He lost that semi-final and then also lost for the bronze medal but this was a busy category and Solanki's judo stood out regardless of the result. Ebenfelt (SWE) and Solanki's German adversary took the top two spots in the group.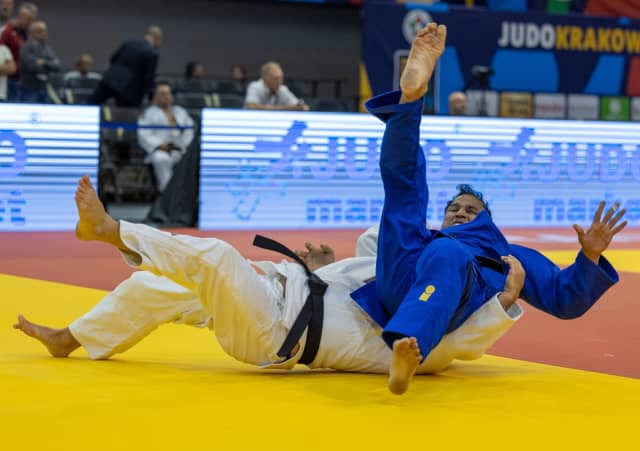 In the M8 -66kg group, a quarter final between Rossi (ITA) and Renedo (ARG), bringing together Europe and Pan America, also brought together a strong left vs right situation in which the kumi-kata phases proved to be all important. Again we were treated to a contest that shone due to the athletes' differences, with a closely matched skill level and a variety of attacks. Eventually Rossi won with a fast left uchi-mata almost at full time.
Rossi lost his semi-final against a fellow Italian and so the bronze medal match became his next destination. Rivera of Spain was there to meet him and with neither man registering medal success at world veteran level before, it would be a new medallist celebrating in Krakow. The Spanish judoka won the medal with a clean seoi-nage almost on the final bell, bringing Rossi some tangible disappointment, but for us watching, it has been a group of good judo and exciting matches.
Also at -66kg but in the M6 age band, we found Kosovan Anton Cena. Beating a Brazilian early in the day and throwing impressively fast in the semi-final means a final was lined up between him and the other Brazilian judoka in the group, Claudio Cardoso, who also had a perfect run to that point.
Cena was world veterans champion last year in Portugal and European veterans champion in 2018 and doesn't look like someone who gives up a gold medal easily. The Brazilian, however, arrived with everything in his kit bag, agility, speed, an attacking attitude and a huge range of techniques, all combined with a perfect feeling for balance and direction. He scored in the first exchange with a little, almost undetectable ashi-waza before finishing Cena off for ippon in the very next hajime phase. Cardoso was a worthy champion and Cena had no choice but to accept a silver medal for the first time on the veterans circuit.
Before concluding, we must make a special note of Mauricio Neder (BRA). He came with posture and technique in every round and kept all the action positive even in golden score. Winning all his contests, 3 by ippon, he can be proud of his performance on the way to the top of the podium.
Having picked out just a few chains of action, it must be said that the range of techniques on display overall has been quite staggering, including swift sukashi, powerful uchi-mata and tidy foot sweeps. All in all the first session of the 2022 World Championships Veterans has been an unpredictable melting pot of styles from around the world, no continent excluded.