Krakow has done a wonderful job of organising the 2022 World Championships for Veterans, with local organisers, volunteers and the IJF, particularly the IJF Veteran Commission.
Lisbon held the first post-pandemic event of this kind, re-igniting the veteran community back in 2021, with almost 500 judoka in attendance but Poland has really taken on the mantle and with an entry of close to 900 there are 4 full days of competition to be enjoyed.
On Friday 9th September 2022 the opening ceremony took place in the Tauron Arena Krakow, kicked off by a musical performance by one of the day one medallists. Karl Moser, A.K.A. Charly Mo sang and played guitar, an original composition, in judogi, much to the smiles of the crowd.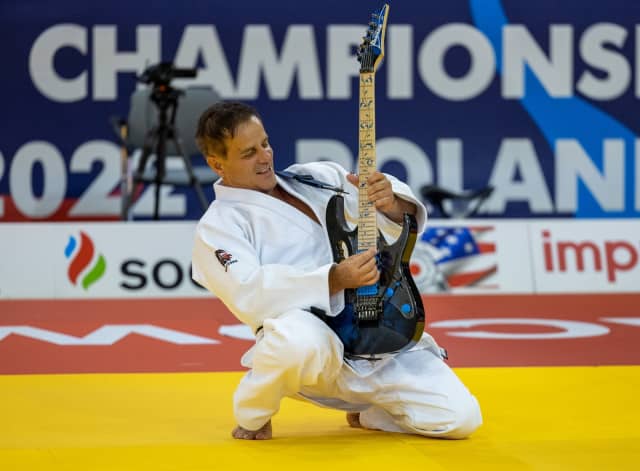 Then followed the welcome speeches. Mr Janusz Kozliol, Sports Advisor to the Mayor of Krakow began, "I welcome all invited guests, local people from our district, competitors and the IJF team. We are very happy that such a big tournament can be held here in our beautiful city and also that judo in the 2023 European Games will be staged here. So, I believe you will come back to Krakow and maybe even compete in another tournament here. I am wishing you all the best and congratulations to the whole judo family and all competitors.
Mr Jacek Zawadka, President of the Polish Judo Association, continued, "Dear distinguished guests, welcome to Krakow and to Poland. I welcome everybody from the judo family. I'm proud that we have this opportunity to stage a world championship for the first time and thank Mr Vizer for this great honour."
Mr Denis Weisser, Chair of the IJF Veteran Commission, has felt a huge responsibility to get this event right and to serve the veteran community. At the opening ceremony he said, "Dear judo friends, on behalf of the IJF and it's president I want to welcome you to this 2022 World Championship for Veterans. Judo is a lifelong experience and we restarted after the pandemic with a wonderful event in Lisbon and now I must thank the Polish Judo Association, our local organising city here and everyone involved in organising this great tournament.
Almost 900 competitors from 60 countries and 5 continents have come together in Poland, with judo values and friendship at the core. They are role models and inspire those who are following them. I wish for everyone in the competition to stay healthy and strong.
I look forward to the next hajime and I declare the 2022 World Judo Championships for Veterans open."
The ceremony closed with the IJF anthem, which followed a rousing performance of the Polish national anthem by the military orchestra.
With two more days of competition still to enjoy and a host of world veteran champions yet to crown, Krakow has a lot more to give and we are looking forward to every minute of it.