On this super Saturday we shall introduce to you a judoka who travelled for 60 hours to reach Krakow, to compete in the World Championships for Veterans. Sixty hours, that's 6, 0! Not 16 but 60. There is nowhere in the world that is 60 hours from anywhere else. In fact we could fly twice around the equator in those hours and still have time for a snack stop somewhere interesting along the way.
To be completely open about this, this judoka is not alone but in a delegation of 6 athletes. There were supposed to be 11 members of the team but 5 didn't make it, held up with travel, passport and visa issues.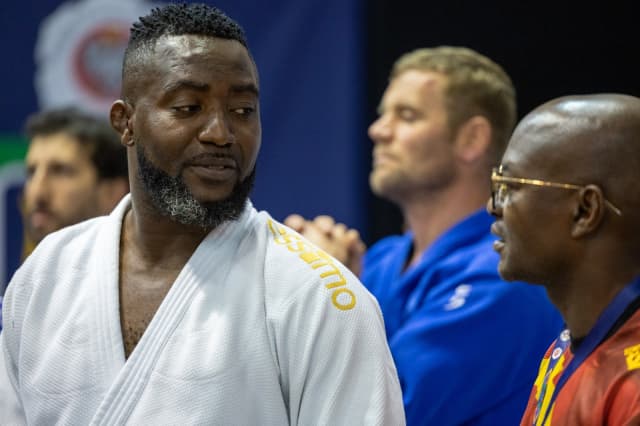 Our subject is Audacio Cambamba, 41 years old and working in the security industry in Angola, where he lives. He's a member of the Grupo Desportivo da Banca judo club in the coastal capital of Lundo. Audacio was a teenager when he first tried judo and he was hooked right from the beginning, training hard all the way up to his 2011 appearance at the Paris Grand Slam. There haven't been any medals on the World Judo Tour but we must put into perspective the equation that includes both opportunity and effort.
Living in Angola on the south-west of the enormous African continent comes with sunshine but challenges. Travel is just one of them, alongside economy, political instability and many other facets of life. Reaching Krakow was not easy, cheap or for the timid!
Audacio won his first contest of the day with a huge o-goshi against Valiev (UZB) in round one. It made people sit up; no-one expects an Angolan to beat an Uzbek and this is the truth. It wasn't just a win, a chance but a huge throw, gripped for, prepared and executed and it was powerful.
The IJF photographer took position for each of Audacio's subsequent rounds. He beat Albadri of Egypt in round two in an all-African head-to-head. Next Iannone (ITA) fell to him in the quarter-final and then there was the semi-final against a home favourite, Fijalkowski (POL). An enormous foot sweep combined with steady hand control dealt with that challenge and put Cambamba squarely in the final.
4 contests, 4 wins and a certain medal for him and Angola. This is already a story. To hear his anthem thought Audacio needed one more win. Facing any Frenchman brings the realisation that anything can happen, no matter how strong a person's judo has been in previous contests.
It went to golden score but Audacio held both his nerve and his posture and eventually threw for a waza-ari with o-uchi-gari. He went straight into the hold down but it wasn't necessary, he had already done enough and was now world veteran champion!
"Sixty hours travel to come here, with no time to train or rest." Jorje Francisco is another member of the delegation and fought in the same category as his teammate. "I'm working for a credit company in Anglola called Fundo de Garantia de Credito and the company sponsored us for our judo kits and tracksuits. Friends and local small companies put money together to help us with the travel. Five couldn't come out of the original 11 but 6 of us made it."
Audacio continued, "I came to Poland because in the last years I wished to go, like to Portugal but there was no opportunity due to passport and financial issues. For this year I chose to join this group and it has all come together with the help of many.
I started judo many years ago in 1996 and am proud to represent one of the most respected clubs in Angola. Grupo Desportivo da Banca creates the conditions in which we can train, for judoka but also for those enjoying aikido, basketball, karate and futsal.
There is no veterans championship in Angola and so this is the only opportunity for us to show our country that we need support, to show them how great judo is. I fought at the Paris Grand Slam in 2011 and in Germany the same year and I learned a lot. More Angolans should have these experiences and I hope our work here in Krakow shows that we can achieve."
The Tauron Arena in Krakow has reverberated with the celebration of many countries' national anthems but not many of us predicted Angola would have provided one, especially in such a heavily contested category. Audacio Cambamba multiplied his slim opportunities by increasing his investment of effort and that 60 hours and the fundraising and training all came together, culminating in the perfect reward.
Audacio Cambamba, 2022 veteran world champion. Bravo!