Every person competing at the Tauron Arena in Krakow this week has a back story. Athletes have undertaken careers in every imaginable industry and service and all are in Krakow for the love of the sport.
One such judoka is Karl Moser (AUT), "I've been a member of the St.Pölten club in Austria for 46 years, starting judo at 10 years old. As a youngster I was a champion in Austria, as a cadet. Later I wanted to fight internationally but I spent my compulsory year in the military and then later I started to study music. I never stopped training judo but there were life interruptions that pushed the elite level too far away.
I train a lot and with many different types of physical activity. I've enjoyed mountain-biking and power training, for example. Every year I meet a personal target of 20,000 pull-ups just to be sure I'm doing enough.
In 2010 I came to the veteran tour for the first time and I saw this environment was very good for me but I injured my ACL and it took a long time to heal. Last year I won the event in Lisbon in the M6 -90kg category."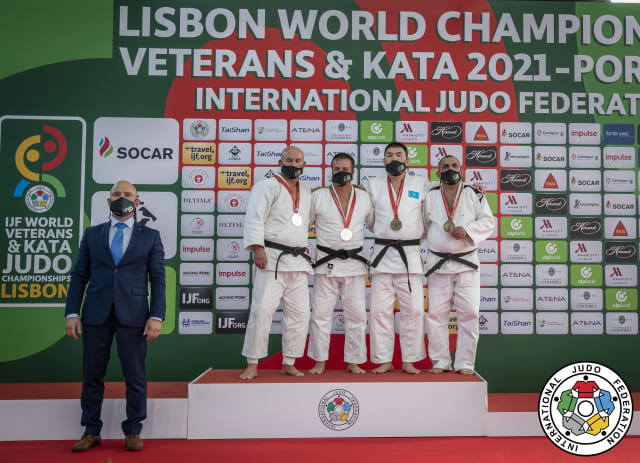 "This year I won the European Championships for Veterans in Heraklion, Greece, and on Thursday, day one in Poland, it was bronze. It was good."
Karl's category was one of the busiest of the event with 24 entries from more than 15 countries and with a packed repechage it became a 6-contest day. That's a lot of matches for anyone and is unusual on the veterans circuit. Keeping himself in shape is a priority for Karl and that paid off on fight day.
"Away from judo I'm a musician, a composer and a guitar teacher. I also paint, which I love but I don't always have time."
Karl was responsible for the first moments of the opening ceremony in Krakow, under his stage name, Charly Mo, performing an original song and playing the guitar, in judogi, of course.
"When I was a child, judo was my life, training every day. When I was young my school teacher asked me why I was bad in school but I could only answer that I wanted to be a judo champion and that's where my focus lay. I couldn't see another path. Now though, I like to swing between music and judo. One enables me to relax from the other. Painting is my hobby, music is my job and judo is my passion, my life. It took 40 years but I finally became a champion, one way or another!"
Answers to any questions to any athletes at this world championship, about participation, are always similar, "The people in judo are so good. It's such a hard sport but it gives us all a line and we are together on that line. When we lose a match or take an injury we stay on the line because judo guides us to do that. With judo, I know that life will go on no matter what the challenge is. I learned to live with and cope with pain because of judo and this makes me and the rest of our judo family strong.
This age group can compete and fight with people just like themselves, people from all over the world. I say quietly that it's true the young guys are too strong for us. Here we can all be part of something and continue training and competing within a group of like-minded people. We support each other even when we beat each other."
These sentiments are universal. The pull to be here is a combination of the will to achieve, the need to continue and the love of both the sport and its community. There are so many wonderful stories here but for today it's Karl under the spotlight.