Let's begin from the premise that judo is hard. Let's also accept that once it gets in your blood, it's hard to shift it; once a judoka, always a judoka, whether we practise consistently or not. It's not just about the sport itself but about all that surrounds it, the mentality, the values and the sense of community.
So, what do you do if you come from a place so remote that in your whole country there are only 150 people doing judo? What if it's a place recognised as a developing country lacking in financial resources? And what if you came across judo as a child and fell head-over-heels in love with it?
Angela de Bye comes from Suriname in South America and there are indeed only 150 people in the whole country, population 600,000, doing judo. At 48 years old, Angela has now been involved in the sport for 44 years. Angela lives in the capital city of Paramaribo, working two jobs, one as an oral health therapist and another delivering first aid training for companies and their staff.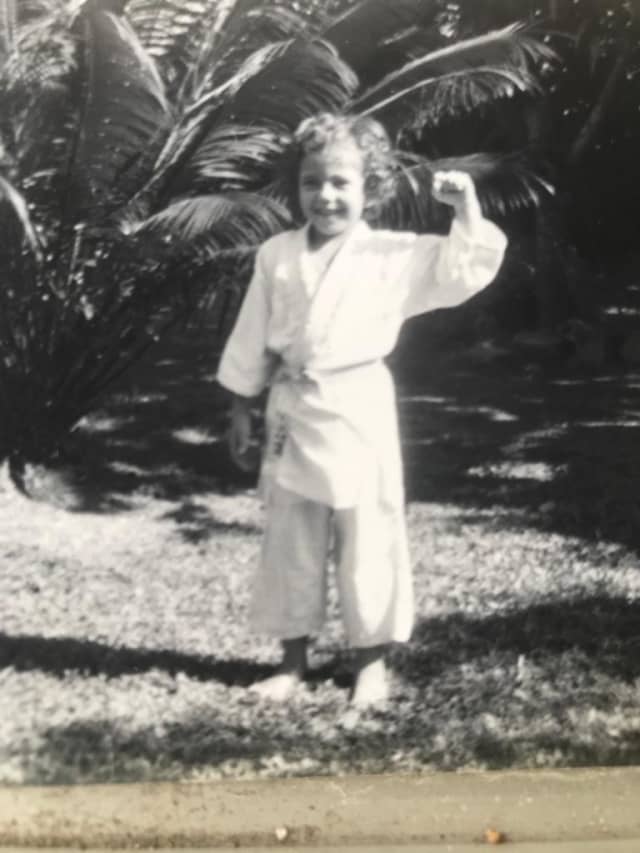 "I began when I was 4, practising until I was 19 and then I stopped to have my family. At 29 I started again and achieved my black belt at 30. I then competed in my first senior national championships and won the gold. I had always preferred the technical side of judo rather than shiai but it was important for me to test myself in order to move forward.
Of the 150 judoka in Suriname only 120 were competitive. After Covid this number definitely dropped. The country is back to training but there have been no competitions since the beginning of Covid.
My daughter was super light weight and always fought girls much heavier or much older, to find matches. She became very frustrated and so I decided to look for tournaments outside the country. Many years ago now, I took a small team to the Dominican Republic. From our attendance at that event we started to get invitations to other places and went to Barbados, Netherlands, USA, French Guiana and at all the events our athletes did well, we took medals."
"So, I was an accidental national coach, nothing official, but I was searching for opportunities for the children and young adults to compete and improve and so they travelled with me and developed their judo. There was no official national team at that time.
Following our travels the federation appointed a national coach for the first time they and took some juniors to some international events. Once that began I was involved less and stepped back from judo for a short time, but that didn't last long. I went to watch a competition at home in Suriname and felt the pull to do more again. A friend asked if I could help referee as they needed support and I said yes. That was ten years ago and was my first refereeing experience.
From then I started to referee more often. I went to the U.S. Junior Open one year with a competing group and an older Surinamese gentleman was there. He spotted our group and we spoke a little about refereeing. He suggested I do more and so I started to travel with the Suriname team again, but this time as a referee. I had no badge or exams but I was getting better.
I refereed in French Guiana, at the U.S. Junior and some other events and then in Barbados I met with Mr Braafhart from Curacao and he suggested I go for my IJF 'C' licence, as it was then. So the next year I passed that exam in America but then the IJF referee qualifications changed a little and I was invited to travel to Costa Rica to attend a conversion event and then received my 'B' licence in the new system.
After a couple of years I was refereeing at a tournament in Guadeloupe and the Refereeing Director for the event had travelled all the way from Paris, France. He conducted exams for some referees there but I was not part of that so I was relaxed and just enjoying doing my job at the event. At the end he called me to one side and said that I have to go for the exam for my 'A' licence and that he would speak with someone at the IJF to help me go through the process in the right way.
Unfortunately I was put on the list for the 'A' exam twice but couldn't move forward as I hadn't yet earned my 3rd dan and that's a minimum requirement at that level. It was difficult to manage the grade promotion through the Suriname Judo Federation but Carlos Zegarra from the PJC was very supportive and in the end it became possible to work for my 3rd dan in Suriname. That was the last piece of the criteria I needed.
With everything in place I was able to travel to Lima in Peru and finally take the exam. In April of this year I passed and became an IJF 'A' referee. The World Championships for Veterans in Poland is my first event with my new badge."
"For now I'm the first and only international referee from Suriname but I really hope that in the future we can develop our programmes. Suriname is a developing country and travel is expensive. We earn Surinamese dollars which don't get a favourable rate against US currency. Hotels and transport are always in Euros or dollars and so it's been a huge effort to come this far.
With such a small population and coming from such a tiny judo nation, it's very difficult to practise my refereeing skills. We all have the same rules in judo but we don't all have the same access."
Angela has been both hard working and fortunate but but is clear about the need for further development of judo provision in her country.
"Although it's an economically challenging country, the quality of life is generally good. If you put something in the ground there, it will grow. So despite poverty being present there is never a need for someone stay hungry.
Due to the poverty, many children need to work and they don't have access to judo at all but those who do find judo always find something special. Im looking forward to a future in Suriname when more people can enjoy the judo life I have lived and am continuing to live and where more children can become as hooked as I did."
So the answer to our original question is that despite all circumstances, if you work hard and stay true to your goals, you will always achieve. A certain Jigoro Kano said something similar once, 'Where there is effort there is always accomplishment."